Makerspace
Libraries worldwide are transforming their spaces to better align with the changing needs of their communities. At Singapore Polytechnic Library, Makerspace was created in 2013 to encourage activity-based learning and to transform the library's image from a place in which resources are consumed to that of a place where works are created.
Makerspaces are growing in popularity across the globe and it is a source of innovation. The NMC Horizon report 2015 Library edition quoted "Makerspaces and online learning are expected to be increasingly adopted by libraries in one year's time to transform peoples' experiences both within and outside of their walls."
The space is located in the Library, open to staff and students from all disciplines, from beginners to enthusiasts. Workshops on a variety of technologies (e.g. 3D printing, Arduino, LEDs, 3D design, programming, video making) are run regularly. Other types of programmes include out-of-classroom experience, bootcamp, tech talks, demos of emerging technologies and project advisory service to students. Resources offered include DIY kits, tools, books, videos and online platforms to promote sharing of reusable objects.
To inspire discovery, foster interaction and build connections, we connect our users to maker communities beyond our campus. Being a place of natural convergence of curriculums and communities, Makerspace offers a supportive and non-intimidating atmosphere for discovery, experimentation and co-creation.
We welcome everyone from all disciplines to explore what Makerspace has to offer. We pledge to be inclusive of ideas and people, and also aspire to be a fertile ground for new discoveries and champions of the Maker Movement.
If you have an idea or project to share, please get in touch with our Maker Coach Mark. We would be happy to connect your creativity to an audience.
3D Printing Facilities
Makerspace@SP Library dedicates an area to 3D modelling, printing and scanning. As the 3D printers are now fully DIY, users MUST first attend
"Intro to FabLab Safety"
workshop and a 2-hour workshop on
"3D Printer"
before they qualify to use them. Register for the workshop
here
(note that you have to connect to SP Network in order to connect to the website). If you have any queries, please submit to our Maker Coach
Mark
. Booking of 3D Printer: Monday – Friday, 8.30am – 5.30pm.Booking of
3D Printers
can be found
here
.
FabLab@Library
FabLab@Library is part of the FabLab network on campus coordinated by the Engineering schools. This facility provides access to a laser cutter, 3D printers and a wide palette of tools, such as vice clamp, drilling machine, sanding machine, vinyl cutter and scroll saw. Users of the Makerspace can now easily progress from tinkering level to actual making to build prototypes, fabricate/engrave models, and work on projects. Skilled technical staff are available to train and assist students as required.
Booking of Laser Cutters can be found here.
Sewing Machine
Make use of this sewing machine to sew textiles to create projects like plush toys, costumes, textile patterns and other interesting projects.
Digital Media Xperience Lab
Photo Studio @L4
This studio is equipped with a wide variety of studio equipment and accessories, perfect for small to medium projects with a huge amount of possibilities to work with.
Booking of the Photo Studio can be done here.
Audio Studio
<Under Renovation>
One Button Studio @L3
<Under Renovation>
If you have any queries, please submit to our Maker Coach Mark.
Magazines
Maker Kits
The following kits are available for loan to all SP students and staff at the Library Level 1 counter. You may approach counter staff to ask for a kit. Do check that all components are accounted for.
Loan Period: 7 days (1 renewal)
Limit: 1 item
Raspberry Pi
The Raspberry Pi is a credit card sized Linux computer that plugs into your TV and a keyboard. It is like a little PC which can be used for many of the things that your desktop PC does, like spreadsheets, word processing and games. For more info, go to
https://www.raspberrypi.org/
Arduino Uno
This is a single-board microcontroller, intended to make the application of interactive objects or environments more accessible. Common examples for beginner hobbyists include simple robots, thermostats and motion detectors. For more info, go to
https://arduino.cc/en/Main/arduinoBoardUno
Maker Coach Louis Goh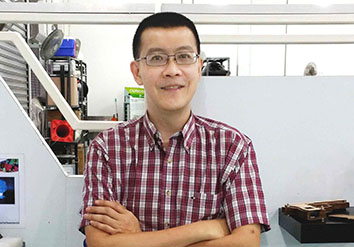 Maker Coach Mark Ng
Our equipment and facilities are now available for your use! But of course, with a great arsenal comes great responsibility!
Our Maker Coaches are available to coach you on how to make use of the tools safely. Just give us a heads-up 2 days beforehand and we'll host you and your friends.
SP Library's Makerspace is constantly transforming… We have installed interactive displays in our Makerspace for everyone to Play, Learn and be inspire to become future makers!
Check out the exhibits, and if you are interested in making any of them, contact or approach any of our Maker Coaches for an appointment. If you wanna showcase your maker stuff, speak with us and we will have your invention/creation exhibited!