Library & Spaces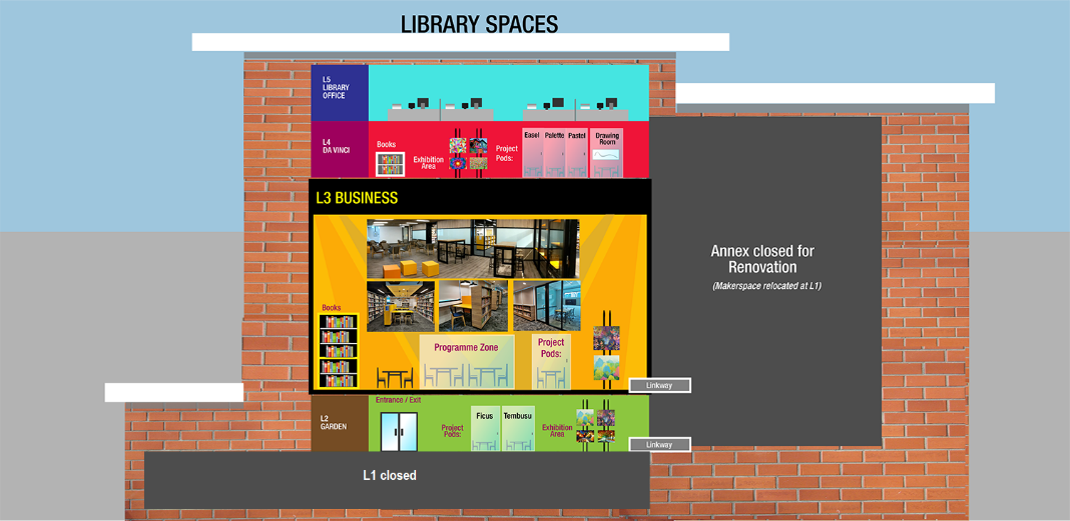 Location Message
Location
Offsite Storage (Temp)
Click on "Reserve" in the catalogue to request for pickup
Lending
Reference
Level 4: Call No. N, TA – TH, Z, Std (Standards)
Level 3: Call No. G, H, J, K, P
Level 2: Materials Exploration
Level 1: Call No. A – F, M, Fiction (823 A-Z) [Level 1 temporarily closed. Click on "Reserve" in the catalogue to request for pickup]
Lending (Loans Counter)
Level 1 (Loans Counter) [Counter temporarily located at Level 2]
Reference Media (Level 1)
Level 1 [Temporarily closed. Click on "Reserve" in the catalogue to request for pickup]
Periodicals
Level 4: ABE & MAD
Level 3: EDU, LSC & SB
Level 2: CLS, EEE, MAE & SMA
Colours Periodicals (Level 1)
Level 1 [Collection temporarily moved to Level 2]
Media (Level 1)
Level 1 [Temporarily closed. Click on "Reserve" in the catalogue to request for pickup]
Archive
Request at Level 1 Information Counter [Counter temporarily located at Level 2]
Internet
A website on the Internet
There are PCs and iMacs available at Level 1 for use by students and staff. Scanners are also available at Level 4.
Students and staff may use any of the PCs without prior booking. All PCs will shutdown 5 minutes before closing time.
List of software available:
Quick Printing Access (Level 1)
Adobe CC
AutoCAD 2016
Autodesk Inventor 2016
Mathcad 15
Microsoft Office 2016
Students may print from any PC in the PC Zone or from their laptops (on the wireless network) as long as they are logged on to SD domain. Print jobs may be collected from 10 locations (including Main Library Level 1). Print jobs that are not collected within 8 hours may be deleted by the system automatically.
Printouts are charged at:
4.5 cents per page for A4 Black & White
8 cents per page for A3 Black & White
45 cents per page for A4 Colour
80 cents per page for A3 Colour
Payment can be made using EZ-Link and NETS FlashPay cards.
For more details on the e-printing system, please refer to this FAQ page provided by the printing vendor, Ultra Supplies.
Photocopying services are available at Level 1, Main Library. The services are provide by the vendor, Ultra Supplies. Please check with the vendor for the most up-to-date rates.
Self-service Photocopiers
| | |
| --- | --- |
| Photocopying services | A3 & A4-size, black & white |
| Payment modes | NETS FlashPay or CashCard |
Operator-assisted Service
Photocopying services
A3 & A4-size, black & white, colour
Payment modes
Cash
Other services
Binding
Local Fax
Topping up of CashCard (NETS payment only)
Operating hours
Term
Mon – Fri: 8:30am – 8:30pm
Sat: 9:00am – 5:00pm
Sun & PH: Closed

Vacation
Mon – Fri: 8:30am – 5:40pm
Sat, Sun & PH: Closed
Other Photocopy Locations in SP
Locations

Polycentre Foyer (beside Foodcourt 3)
T4A, Level 1
Spectrum at T15, Basement
T22, Level 3 (above Foodcourt 6)
Hilltop Haven (self-service photocopier only)

Operating hours
Term & Vacation
Mon – Fri: 9:00am – 5:30pm
Sat, Sun & PH: Closed
Users are required to comply with The Copyright Act and Regulations of Singapore.